Menu Options
Food Display Options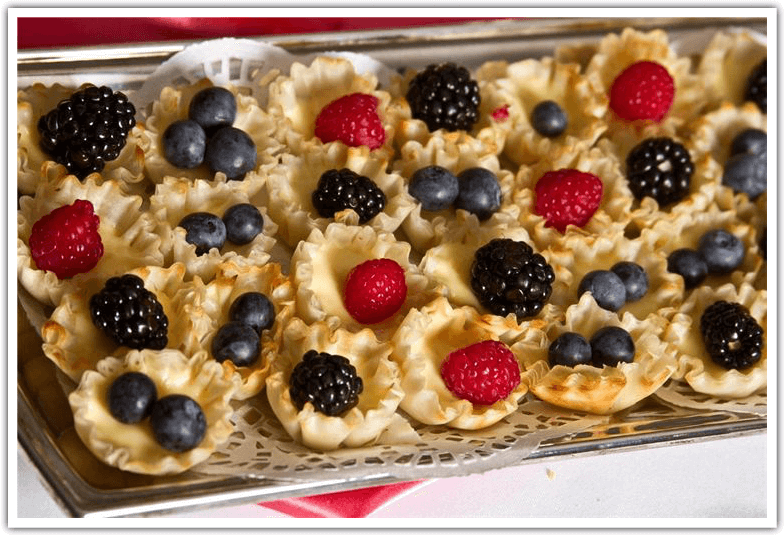 Chocolate fountain with seasonal fruit cut in perfect portions for dipping, accompanied by angel food cake, marshmallows, and pretzels sticks.
Additional option is a caramel fountain.
Vegetable Display has garden fresh vegetables on a flowing display with Just Desserts homemade Ranch Dip.
Cheese Display are large blocks of gourmet cheese with cube cheese around them. Handmade specialty cheese ball with assorted cracker in a flowing display.
Fruit and Cheese Display has cubes of assorted cheese and seasonal fruit with Just Desserts own fruit dip. Also includes assorted crackers.
Smoked Salmon Station will show a half side of smoked salmon surrounded by red onions, capers, lemon wedges, and a creamy dill spread. Displayed by this will also be thinly sliced smoked salmon on toast points garnished with capers.
Mashed Potatoes Martini Bar has Red Skin Potatoes waiting for your guest to prepare anyway they like with toppings that include Ham, Bacon, Cheese, Sour Cream, Mushrooms, Chili, Salsa, and more.
Sweet Potatoes Smashed Bar has creamy sweet potatoes waiting for your guest to prepare anyway they like with toppings that include marshmallo cream, brown sugar, cinnamon, and honey butter.
Shrimp Cocktail Station is a table full of individual shrimp shooters. A flowing arrangement of cold boiled shrimp accompanied with lemon wedges and our homemade cocktail sauce.
Nacho Station has a warm nacho cheese in a flowing fountain with an assortment of tortilla chips. There are loads of toppings for guests to choose from to include homemade salsa's, sour cream, jalapenos, and great beef sauce.
Pasta Buffet has Just Desserts very own favorites included here. There are Four Pasta Dishes in this Display starting with our Tri-color ranch pasta, Ceaser bow- tie Pasta, Italian Parmesan pasta with grilled chicken and Rotini Pasta with Ham.
Seafood station is a great combination for a lover and their guest . All on one display guests can choose from shrimp shooters,warm crab dip, smoked salmon on toast points and mini crab cakes.
Carving Stations:
All are accompanied by assorted, fresh baked rolls, and croissants. All condiments are provided for the meats we serve: Dijon mustard, horseradish sauce, mayonnaise, honey mustard and Just Dessert Original BBQ Sauce. The station also comes with a variety of cheese slices. Selection may be Chef Carved or sliced and displayed on trays for guests to self serve.
Roasted Pork
Baked Virgina Style Ham
Oven Roasted Turkey Breast
Herb Roasted Chicken
Sirloin or Grilled Chicken on Skewers with peppers , onions, pineapple, and tomatoes.
Al La Cart Items
Meatballs in Italian sauce
Cocktail Sausages in a Sweet BBQ sauce
Chicken Wings in Hot or BBQ Sauce
Southern Style Sausage Balls
Cocktail Sausages in puff pastry
Spanakopita served with Tzatziki sauce
Mini spinach & cheese quiche
Hot Crab Dip served with pita chips
Parmesan Pinwheels
Just Desserts signature Hot Spinach Dip served with your choice of herb baguette slices, pita chips, or tortilla scoops.
Baked Croissants stuffed with Ham, Turkey,Pimento Cheese ,and Chicken Salad.
Club Sandwich bites with a pesto spread
Fancy pita rolled and sliced sandwiches
Pastry fillos stuffed with our gourmet fruity chicken salad
Open face cucumber sandwiches
Southern Style Ham Delights
Shrimp Shooters
Pastry shells filled custard topped with fruit
Pickle and Olive assortment tray
Choice of cheese ball served with chunks of cheese and gourmet party crackers
Old Fashion Cheese Ball
Pineapple Cheese Ball
Smoked Salmon Cheese Ball
Parmesan Stuffed Mushrooms
Tomato & Feta Bruschetta
Mexican Fiesta Bites
From Our Bakery
Chocolate Covered Strawberries (seasonal)
White Chocolate Wedding Mints
Layered Fruit Trifles
Wedding Cupcakes
Assorted Varieties of Brownies
Wedding Cookies
Cream puffs
Mini éclairs
Mini cheesecakes
Mini pies and tarts
Candy Station
Beverages
Just Desserts on Signature Wedding Punch
Sweet or un sweeten Tea
Choice of Can Sodas
Coffee Regular & Decaf
Flavored Coffees